You can add and save Accessories to Element Profiles to help speed up designs and accurately create a Bill of Materials. We support adding Accessories through the interface or by using our Excel template. Here, we'll show you how to add an accessory to your Element Profile Spreadsheet.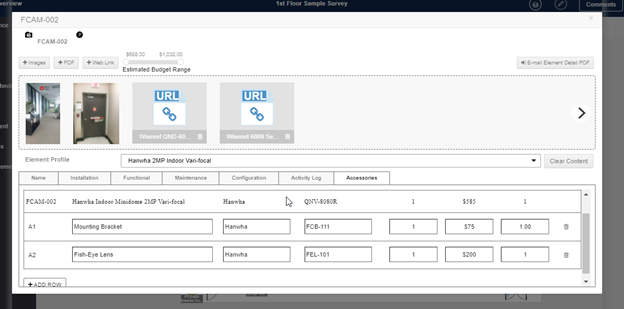 First, you will need to export your Element Profiles to a spreadsheet (find out how to Import and Export your Element Profiles here.) At the bottom of the Excel Spreadsheet, you will find the Accessories section on the 2nd Tab.
To add available Accessories for your Element Profile:
Navigate to the "Accessories" tab
Fill out the information for each Accessory you wish to add in the total catalog, row by row. You can add: Accessory number, Description, Manufacturer, Model #, Price and Labor Hours. 
Navigate back to the "Element Profiles" tab
For each device, in the "Accessories" section, use the dropdown menu in each cell to add the Accessories you wish to include in the Element Profile. You can add up to 10 per Element Profile.  For example; if it is a Fixed Camera, you might have a Ceiling Mount, Wall Mount
Save your modified Excel file.
Here you will see how to use the drop down to select the options from the Accessories catalog specific to the Device.  You may want all of the options for that device so that when someone goes on a site survey, they can assess and deselect what they do not need.  This narrows the options down and helps streamline the process.
Next, import your updated excel template to your Team's Element Profile page. The Accessories you added should now be reflected when you apply your Element Profile on your survey!
Note that most users will have more Accessory options than they may use, in other words the available or best Accessories for a device.  The user would use the small trash bin icon to deselect those they do not need.  Example: If a Ceiling Mount is needed and not a Wall Mount, they would take out that Wall Mount and not include that Accessory for the final Bill of Materials.
One of the best reports after the Accessories are added is the Bill of Materials report. You will see that Accessories are now highlighted and counted in the BOM.