ACT Security serves a wide range of clientele from the commercial and public sector to high-end residential sectors.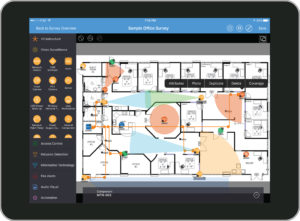 Like many integrators, when ACT sales representatives walked a site with a customer, they would resort to hand notations on a paper floor plan — if they could get one from the client. Capturing a few photos with a smartphone was also helpful, but the added burden of managing and re-labeling the image files to help communicate requirements to the rest of the team was a headache. For a sales professional like ACT's Michael Blakley, this process was cumbersome, inefficient, and frustrating. So with management's support, Blakley went on a mission to find a digital tool to help streamline this process. He found his solution in System Surveyor, based in Austin, Texas (www.SystemSurveyor.com), which sells an all-in-one mobile, graphical system design tool that allows the integrator to capture floor plans, drag-and-drop elements and more.
Today, when Blakley visits a customer to do a site walk with a client, he uses his iPad and a digital floor plan to create a system layout with drag-and-drop simplicity. Then, he can capture customer requirements specific to each device, and use the iPad's embedded camera to capture photos and annotate them — all on the same interface. After the site walk, Blakley electronically transfers the digital file to his design team to begin the project estimation process.
This innovation by ACT Security has had a big payoff for Blakley and the company, with a strong increase in year-to-date sales.
The company said they are closing more business as a result of the new system. Because Blakley can review a proposed system layout during the initial visit, the client has more buy-in to the solution. "When we design on-site together using the digital floorplan, it speeds up the process because the design is basically pre-approved — on the first site walk," he explained.
Blakley can easily share the digital floorplan and photos with the engineering team and provide a link to the customer if he wishes.
ACT Security said because the new system provides more comprehensive site details that the speed and accuracy of the ultimate system design and bill of materials has improved.
"When you have a photo of a camera location or the existing door hardware, it takes a lot of the guesswork out when developing an estimate, Blakley said. "Better estimates result in more predictable and better project margins."
Transform your company with System Surveyor
Contact us today for a personalized demo. We'll review your specific use case to see how System Surveyor can transform your business.