The Role of Physical Security Professionals & System Integrators
Across the world, organizations are working to address re-entry into business and resuming operations. There's no crystal ball nor a perfect prescription but there is an opportunity for physical security professionals and the IoT/building automation technology industry prepare for a safe and productive reopening. 
Every security, facility and operations manager, whether for a smaller business or a large campus or enterprise, must address workplace readiness. How will they set up to ensure that employees can work safely or students can attend class? Will they administer testing? Will they need to rely on new technologies to address access to facilities? The answer may differ but everyone will be pressed to address it.  
As a system integrator or technology manager, you play a vital role in this process whether for K-12, universities, or local or global companies. 
4 Steps to Help with a Workplace Reopening Plan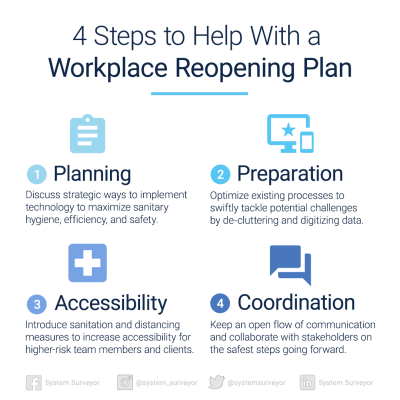 1: Planning

One of the values you add as a trusted advisor and solutions provider is to help your customers and clients plan for how best to implement and update technology systems to solve problems. A solutions provider keeps up with a variety of new and emerging system technologies and the benefits and pitfalls. The definition of a "system" is a set of things working together as parts of a mechanism or an interconnecting network. Designing and delivering on the promise of a technology system is what you do best. 
In this new era, organizations will be looking to you for some answers. Is there physical security technology that can help them manage access to buildings?  Can touch-less access control be implemented to limit physical contamination?  Perhaps they need help on where sanitation stations will reside. If you want to be their solutions provider, this is a great opportunity to help them solve problems. 
These challenges must be handled differently now; to plan safely and effectively, it will require remote collaboration to make smart, timely, joint decisions on what's best. 
In fact, you may not have all of the answers, but as the trusted advisor, your job is to be "at the table" (while of course not always physically at a table with them) to visualize the planning and budgeting process. To do that, collaboration technology such as System Surveyor, that can help you organize the team and visually plan together, may be helpful.
As one System Surveyor user noted weeks after the shelter in place took effect:
"I never met with my customers like this before, remotely using digital system design over web conferencing –  but it was great. I was able to have my customer, manufacturer rep, electrician all on a meeting at one time to visually plan our solution.  I'll do more of these even when we get past the restrictions – it's just as good or more efficient."
—Bienson Jones, Security Sales for Tech Electronics
2: Preparation
While many integrators tell us that they were in a good position and prepared to serve customers when the challenge of the pandemic came on, most had some adjustments to make. 

With difficult to source personal protective equipment (PPE), this is not the time for two truck rolls when one visit could do the job. Thus, this situation has highlighted the need to review workflows, handoffs and processes to serve customers/stakeholders. 
Questions to consider about your current process: 1) Do you rely on in-person site surveys to do our work and what are the handoffs? 2) Are you emailing documents and is there anything falling through the cracks? 3) What role do you play in the planning, budgeting and justification process and how do you do it? 4) Is there a central place to gather survey and project information?
Because efficiency is even more vital, it's important to apply the "spring cleaning" spirit to your documents and data. You can avoid a workflow that makes you constantly endure the Two-Step process of typing up paper documents by capturing digital data and bills of materials for a project the first time around. 
Compiling information into one integrated system saves valuable time and eliminates the frantic "Needle in the Haystack" hunt brought on by paper piles and email chains. Beyond focusing on simply selling a system, this is a time to be thinking about the life-cycle of systems and how accessible information is to adapt and respond quickly and intelligently.
3: Accessibility

Just as restaurants around the world have retooled to serve customers; security and technology professionals managing the design and installation of systems for institutions with high foot traffic, such as schools, universities and offices are planning for how to operate.  This requires accessibility to plans and data.  

A plethora of new and existing technology are being considered. This may include adding touch-less access control, thermal cameras, sensors for traffic patterns and density tracking, and even sanitation stations. This is a key time to work with manufacturer vendors and clients to determine if there is new and retrofit technology needed that can help. This is going to take an ecosystem to deliver and for everyone to be on the same page.
With as many eyes as possible on the entire life-cycle of the project, details can be ironed out, ensuring precision and accuracy. This is an opportunity to help your customers open with confidence and turn your clients into raving fans by offering them better transparency and accessibility to their projects. 
4: Coordination
Ample, organized communication among the stakeholders is imperative to encourage safe and smooth sailing. By digitizing your workflow, you can avoid miscommunications with your team and your clients. This is the time for everyone to use remote project management and collaboration software in conjunction with web conferencing when possible. 
Conversations among team members and stakeholders can and should remain active and productive regardless of distance restrictions. By incorporating new systems of collaboration, you can optimize your projects to fulfill safety requirements, respond appropriately in the face of unexpected changes, and properly address your clients' needs ⁠for a safe reopening. 
Business as (somewhat) usual

As organizations begin to figure out how to safely return to work, they will turn to system professionals to help ⁠— and it's important to be proactive with a solution. Professionals should make sure that every project is handled with heightened and careful planning, preparation, accessibility, and coordination. 
With intelligent system design software such as System Surveyor, you can seamlessly integrate your floor plans, project notes and photos ⁠— and then discuss where on those floor plans to incorporate additional safety measures ⁠— all on one virtual platform, accessible from anywhere with the Cloud.  There are no startup costs making the return on the software as a service quick and easy.
Though no magical crystal ball or perfect prescription to workplace readiness has been found yet, our industry will undoubtedly be part of making the return to a new normal as seamless as possible.  One silver-lining benefit will be the positive digital transformation that will enable our industry ecosystem to solve challenging problems and provide value.  That's what we do best as an industry.
Ready to start?  Get a complimentary System Surveyor account to try it free.